Useful Quality and Manufacturing Industry Acronyms and Terms You Should Know
High QA
March 31, 2022
The quality and manufacturing industries are full of terminology and acronyms – a virtual alphabet soup. It is almost like learning a foreign language. Not knowing an acronym can confuse or throw you off in a conversation. Let alone trying to remember it to look it up later.
Industry specific terminology and acronyms can have multiple meanings and what you find in Google may not always fit the situation.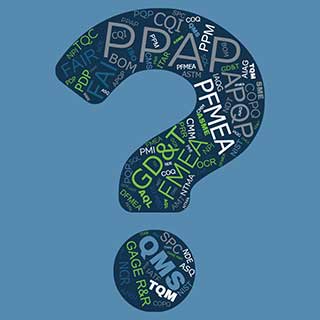 We have collected some of the most common manufacturing and quality acronyms and terms that you can use. There is also a section for association and groups. Make sure you bookmark this for later.
Manufacturing and Quality Acronyms and Terms
APQP
Advanced Product Quality Planning
APQP is a structured approach to product and process design. This framework is a standardized set of quality requirements that enable suppliers to design a product that satisfies the customer.
AQL
Acceptable Quality Limit
In a continuing series of lots, a quality level that, for the purpose of sampling inspection, is the limit of a satisfactory process average.
BOM
Bill of Material
A list of components and materials contained in the design record(s) of a product.
CI
Critical Item
Those items (functions, parts, software, characteristics, processes) having significant effect on the product realization and use of the product; including safety, performance, form, fit, function, producibility, service life, etc.; that require specific actions to ensure they are adequately managed. Examples include: safety CIs, fracture CIs, mission CIs, Key Characteristics (KCs), and maintenance tasks critical for safety.
CMM
Coordinate Measuring Machine
A device that dimensionally measures products, tools and components with an accuracy approaching 0.0001 inches.
COPQ
Cost of Poor Quality
The costs associated with providing poor quality products or services. There are four categories: internal failure costs (costs associated with defects found before the customer receives the product or service), external failure costs (costs associated with defects found after the customer receives the product or service), appraisal costs (costs incurred to determine the degree of conformance to quality requirements) and prevention costs (costs incurred to keep failure and appraisal costs to a minimum).
COQ
Cost of Quality
It is considered by some to be synonymous with COPQ but is considered by others to be unique. While the two concepts emphasize the same ideas, some disagree as to which concept came first and which categories are included in each.
CP
Control Plan
Written descriptions of the systems for controlling part and process quality by addressing the key characteristics and engineering requirements.
CQI
Continuous Quality Improvement
A philosophy and attitude for analyzing capabilities and processes and improving them repeatedly to achieve customer satisfaction.
CTQ
Critical to Quality
The measurable data that is needed on a product that your customers have specified as being a very important requirement.
The CTQs will dictate the processes involved, the risks, and just about everything that goes into the designing and manufacturing of the product.
DFMEA
Design Failure Mode & Effects Analysis
A systematic group of activities used to recognize and evaluate potential systems, products or process failures. It identifies the effects and outcomes of these failures or actions. It eliminates or mitigates the failures and provides a written history of the work performed.
FAI
First Article Inspection
FAI is a planned, complete, independent, and documented inspection and verification process to ensure that prescribed production processes have produced an item conforming to engineering drawings, DPD, planning, purchase order, engineering specifications, and/or other applicable design documents.
FAIR
First Article Inspection Report
FAIR is a report of the forms and package of documentation for a part number, sub-assembly, or assembly, including associated FAI results.
FMEA
Failure Mode & Effects Analysis
A structured method for analyzing risk by ranking and documenting potential failure mode in a system, design or process. The analysis includes:
Identification of potential failures and their effects
Ranking of factors (severity, frequency of occurrence, detectability of the potential failures)
Identification results of actions taken to reduce or eliminate risk
The FMEA assists in the identification of critical items as well as key design and process characteristics, helps prioritize action plans for mitigating risk, and serves as a repository for lessons learned.
GD&T
Geometric Dimensioning and Tolerancing
GD&T is a set of rules and standard symbols to define part features and relationships on an engineering drawing depicting the geometric relationship of part features and allowing the maximum tolerance that permits full function of the product.
ID
Inspection Dimension
A specific dimension that allows you to effectively communicate how frequently manufactured parts should be checked to ensure that the dimension value and tolerances of the parts are within the specified range.
ITAR
International Traffic in Arms Regulation
ITAR is the United States regulation that controls the manufacture, sale, and distribution of defense and space-related articles and services. Besides rocket launchers, torpedoes, and other military hardware, the list also restricts the plans, diagrams, photos, and other documentation used to build ITAR-controlled military gear.
KC
Key Characteristic
An attribute or feature whose variation has a significant influence on product fit, performance, service life, or producibility; that requires specific action for the purpose of controlling variation
KCs for a part, subassembly, or system are those selected geometrical, material properties, functional, and/or cosmetic features; which are measurable, and whose variation control is necessary for fulfilling customer requirements and enhancing customer satisfaction.
Process KCs are those selected measurable characteristics of a process whose control is essential to manage variation of part or system KCs.
Substitute KCs may be identified when a customer-defined KC is not readily measurable, within the production/maintenance setting, and other characteristics may need to be controlled to ensure conformance.
KPC
Key Product Characteristic
A critical product characteristic that can affect quality, safety, compliance with regulations, fit, function, performance or subsequent processing of product. Also any feature that affects subsequent operations, product function, or customer satisfaction.
MBD
Model-Based Definition
MBD or sometimes 3DMBD is the use of 3D models (such as solid models, 3D PMI and associated metadata) within CAD software to define and provide specifications for individual components and product assemblies.
NCR
Non-Conformance Record
A permanent record for accounting and preserving the knowledge of a non-conforming condition.
NDE
Non-Destructive Evaluation
Evaluation methods that do not damage or destroy the test part.
NDT
Non-Destructive Testing
Testing methods that do not damage or destroy the test part.
NPI
New Product Introduction
The process of establishing a clear design, manufacturing and quality plan to take a product from concept to its final form.
OCR
Optical Character Recognition
Automatically extracting printed or written text data from a scanned document or image file and then converting the text into a machine-readable form to be used for data processing.
PDP
Product Development Process
A generically applied term referring to an organization's process(es) for product realization. The process begins with conceptual product needs and expands throughout the life of the product.
PDQ
Pretty Darn Quick
What a High QA customer's quality process becomes after implementing the ultimate manufacturing quality management solution from High QA. Request a demo now.
PFMEA
Process Failure Mode & Effects Analysis
A process used by manufacturers to detect potential failures that are rooted in the manufacturing of a part. Each step of the process is carefully analyzed to identify every possible thing that could go wrong in the manufacturing process allowing preparedness for all scenarios. It allows manufacturers to build in process safeguards to offset potential failures from occurring.
PMI
Product and Manufacturing Information
Data included in 3D CAD models necessary for manufacturing product components and assemblies. It may include geometric dimensions and tolerances, 3D annotation (text) and dimensions, surface finish, and material specifications. The data is used in conjunction with the 3D model within model-based definition to allow for the elimination of 2D drawings for data set utilization.
PPAP
Production Part Approval Process
PPAP is a series of documents and procedures set by a customer. A customer part qualification process for purchased parts or materials that are to be used in the customer's final product. Customer PPAP approval, or a deviation, is required before shipping the purchased parts or materials to the customer for use in their production process.  The purpose of PPAP is to determine whether all customer engineering design record requirements are properly understood by the supplier and that the process has the potential to produce product consistently meeting these requirements.
PPM
Process Performance Management
The overseeing of process instances to ensure their quality and timeliness; can also include proactive and reactive actions to ensure a good result.
PQP
Production Quality Planning
High QA PQP is a powerful manufacturing quality project management solution to fulfill PPAP process requirements. The database driven manufacturing quality management software is a non-Microsoft Excel based solution providing project management tools and automation to all aspects of the manufacturing quality management process. It complies with manufacturing regulations in automotive, medical, aerospace and other industries.
PRR
Production Readiness Review
A review of the manufacturing process (e.g., equipment, operator training, manufacturing documentation, control plan, associated measurement tools) by a multi-disciplinary team to verify that the production processes are appropriately defined, documented, and ready for production
PSW
Part Submission Warrant
A document or form typically used for confirming that the supply of component parts meet the customer requirements and specifications. The document is a fundamental part of a managed quality process called the Production Part Approval Process (PPAP) and contains a summary of the entire PPAP documentation.
QA
Quality Assurance
Quality Assurance (QA) focuses on the prevention of defects. It proactively aims to prevent defects instead of just identifying defects. QA is the process of managing for quality and involves people from many different departments.
It is often assumed that quality control and quality assurance are one and the same thing—however, while both are an essential component of quality management systems there are some subtle but important differences between the two activities.
QC
Quality Control
Quality Control (QC) focuses on the verification of the quality of the output. It generally aims to identify defects instead of preventing defects. QC is concerned with the identification of defects—as such, it is regarded as the "inspection" element of quality management and typically involves people just an inspection department.
It is often assumed that quality control and quality assurance are one and the same thing—however, while both are an essential component of quality management systems there are some subtle but important differences between the two activities.
QMS
Quality Management System
A formal system that documents the structure, processes, workflows, roles, responsibilities and procedures required to manage and monitor quality processes.
SC
Significant Characteristic
Product characteristic or process which can affect fit, function, performance of a product or process. Often noted in FMEA documentation.
SC
Supply Chain
A network between a company and its suppliers to produce a specific product. This network includes different activities, people, entities, information, and resources. The supply chain also represents the steps it takes to get the product or service from its original state to the customer.
SPC
Statistical Process Control
This is a set of statistical tools and techniques that are used to measure and analyze the variations in a process. The purpose of SPC is to monitor and improve process stability by controlling process inputs.
SQL
Statistical Quality Control
The application of statistical techniques to control quality. Often used interchangeably with the term statistical process control (SPC), although statistical quality control includes acceptance sampling, which statistical process control does not.
SQM
Supplier Quality Management
Supplier quality is a supplier's ability to deliver goods or services that will satisfy customers' needs. Supplier quality management is defined as the system in which supplier quality is managed by using a proactive and collaborative approach.
TDP
Technical Data Package
A data package, usually a PDF, that includes all the technical design and manufacturing information needed to manufacture a part or product.  It generally includes a part geometry, ballooned drawing, specifications for materials, manufacturing processes and quality requirements.
TQC
Total Quality Control
A system that integrates quality development, maintenance and improvement of the parts of an organization. It helps an organization economically manufacture its product and deliver its services.
TQM
Total Quality Management
A term first used to describe a management approach to quality improvement. Since then, TQM has taken on many meanings. Simply put, it is a management approach to long-term success through customer satisfaction. TQM is based on all members of an organization participating in improving processes, products, services and the culture in which they work. The methods for implementing this approach are found in the teachings of such quality leaders as Philip B. Crosby, W. Edwards Deming, Armand V. Feigenbaum, Kaoru Ishikawa and Joseph M. Juran.
About High QA
At High QA, we provide our customers with industry-grade software solutions to ensure product creation in less time with fewer mistakes. We serve a broad clientele in the automotive, aerospace, medical devices, construction, and oil and gas industries.

Our manufacturing quality management solution will help you save 75% of your time. Take your manufacturing from good-to-great with an all-in-one quality software solution.
Explore our website and discover what High QA can do for you and your suppliers. We are just a click away to answer questions or provide a demo of our software.