Inspection Manager automates and optimizes your quality planning, inspecting, and reporting
Request a Demo
Inspection Manager
Your Ultimate Manufacturing Quality Management Software
Managing your quality process doesn't have to be difficult. Inspection Manager™ makes it simple. A fully integrated manufacturing quality management software, Inspection Manager brings flexibility, efficiency, and productivity to your quality process. Comprehensive automation tools reduce cost, prevent human interpretation errors, improve delivery time and part quality ensuring your customers are always confident in your products.
Benefits
Inspection Manager implements best manufacturing quality practices across all your operations and helps you envision opportunities for product and process improvements. Get rid of all the paper, manual processes and confusion.  An automated and optimized quality process makes you more efficient, productive and successful.

Gain deeper insights beyond pass/fail

Automate labor-intensive manual
processes

Reduce quality control bottlenecks

Eliminate interpretation errors

Consolidate multiple systems

Improve quality and compliance documentation
Version 5.1 New and Enhanced Features
One-Click Auto-Ballooning and GD&T Extraction
Updated in Version 5.1
With just one-click, you can quickly extract and balloon GD&T from 2D drawings and build a complete bill of characteristics for your part. The cutting-edge Optical Character Recognition (OCR) system creates a ballooned drawing in minutes.
Easily adjust balloon colors, shapes, and arrows or drag and drop custom requirements not found in the drawing.
Change between metric or imperial units, setup a fully integrated SPC and build in-process inspection plans all in the same manufacturing quality management software.
Request a Demo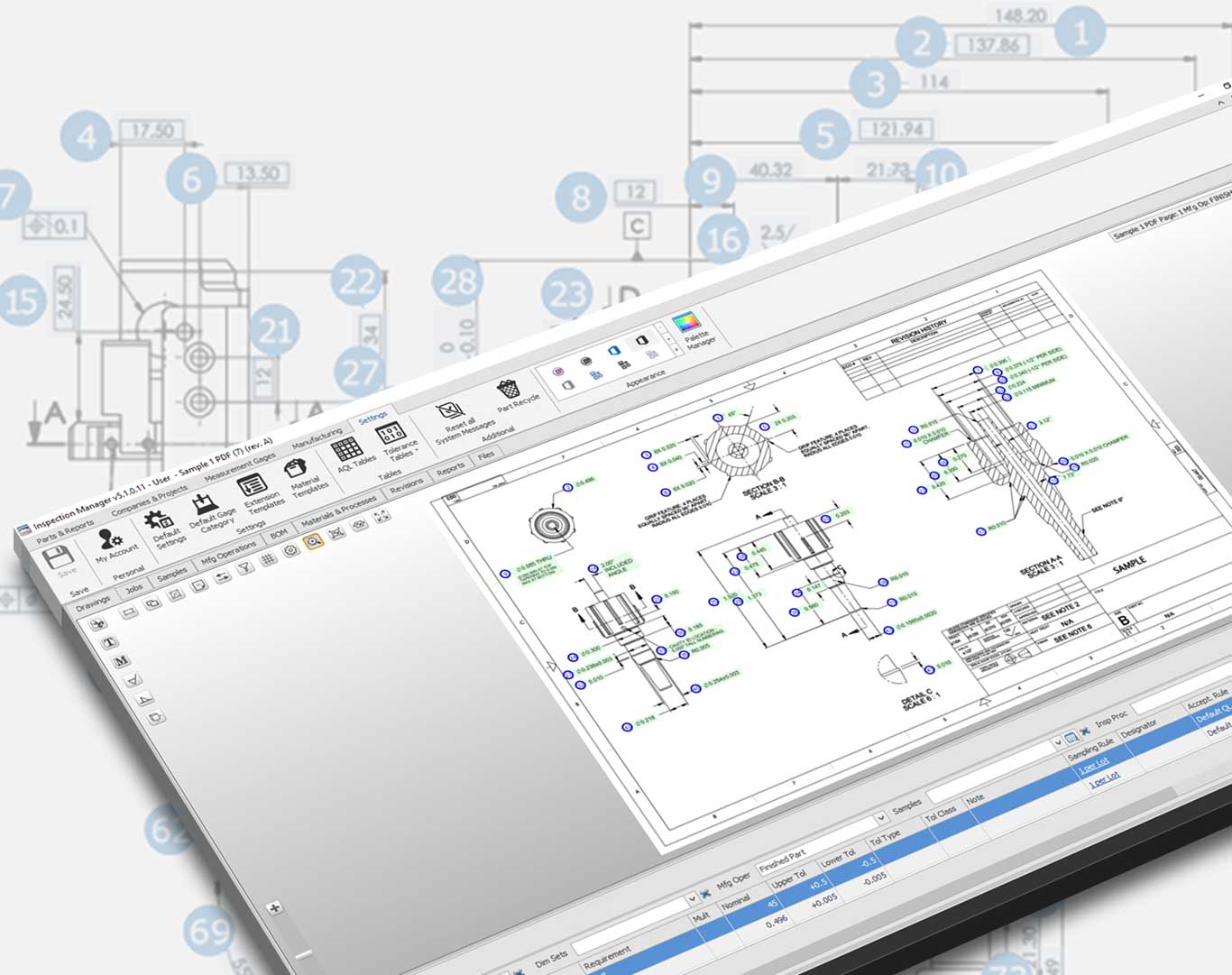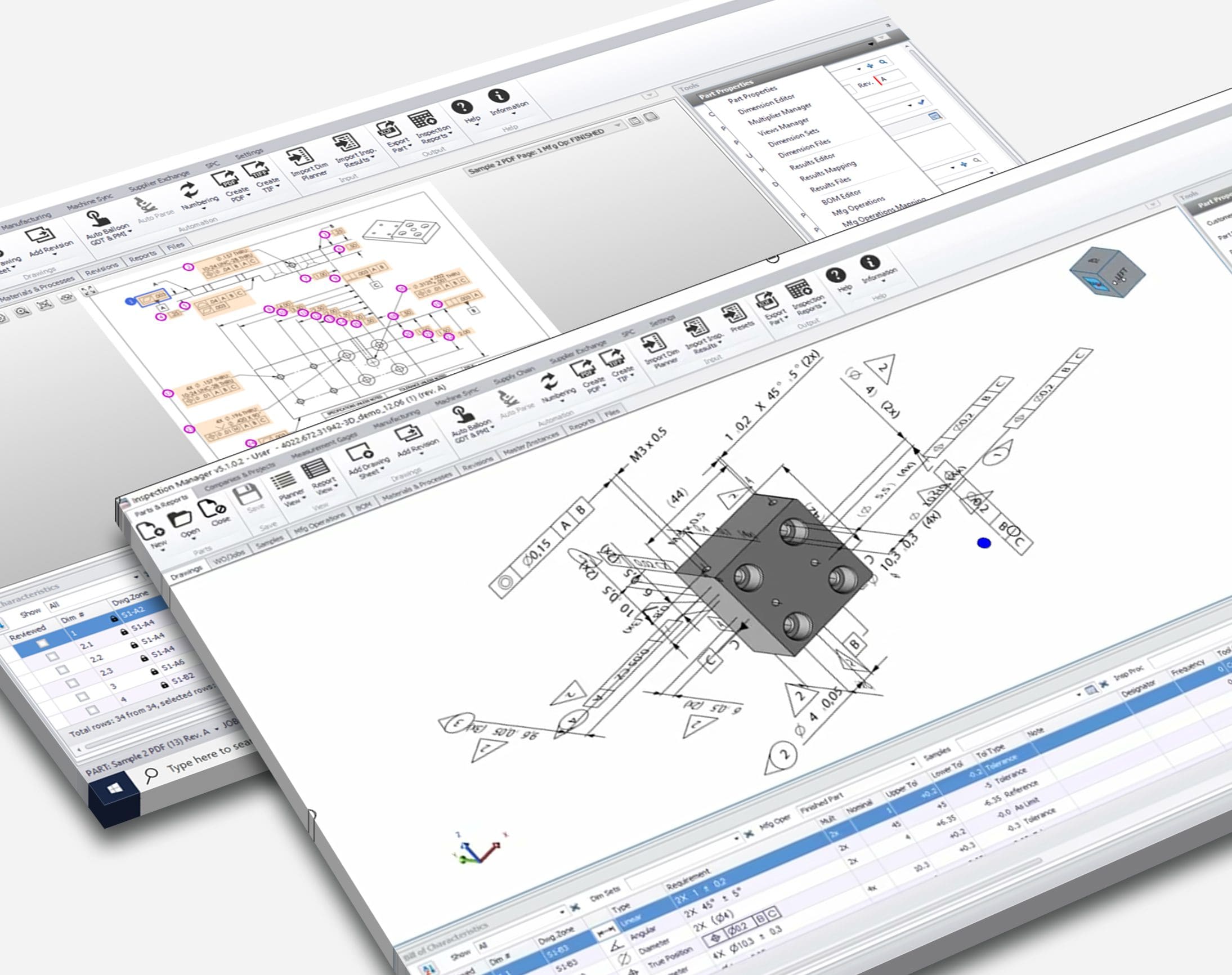 3D MBD Auto-ballooning and PMI Extraction
Coming Soon
The MBD module for Inspection Manager makes it simple to incorporate 3D models in your quality process.
Intelligently extract, modify, and manage GD&T and PMI from native 3D MBD models

Gain understanding and clarity of 3D model PMI and annotated data

Streamline and automate quality processes from ballooning to planning to final reports
GD&T and PMI data is automatically extracted and ballooned on the model when a file is opened. Annotations are automatically cleaned based on usefulness and can be visible, non-selectable, or hidden. Dimensions can be toggled to different states as needed. Drag and drop technology re-locates PMI data into essential views directly on the MBD model to correctly drive quality processes.
After the 3D model is ballooned and modified, all views are converted to a usable 2D drawings for quality processes. The 3D model can also be converted to a STEP file to support other manufacturing processes or to a 3D PDF for visualization.
3D models from all major CAD systems are supported.
In-Depth AQL Based Sample Planning
New in Version 5.1
Integrated Acceptance Quality Limit (AQL) based sample planning enables repeatability, scalability, and consistency by providing a more efficient workflow with data and plans in one centralized database.
Set up a sampling plan once and use it across multiple jobs, lots, and orders. Plan modifications are simply made with just a few clicks and are immediately visible. Inspection Manager sample planning is based on MIL-STD-105 and Z1.4 AQL standards and supports many other common AQL tables.
Request a Demo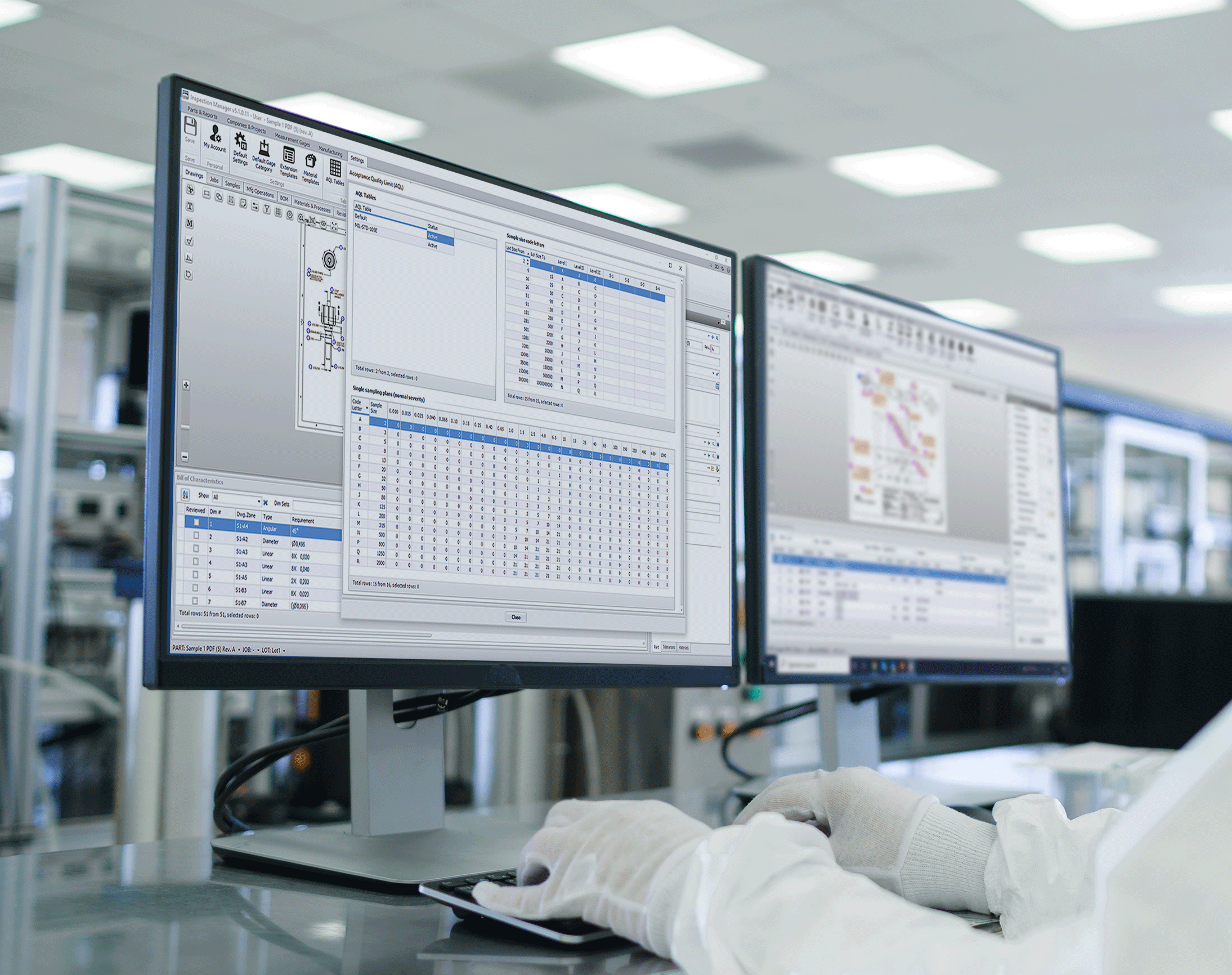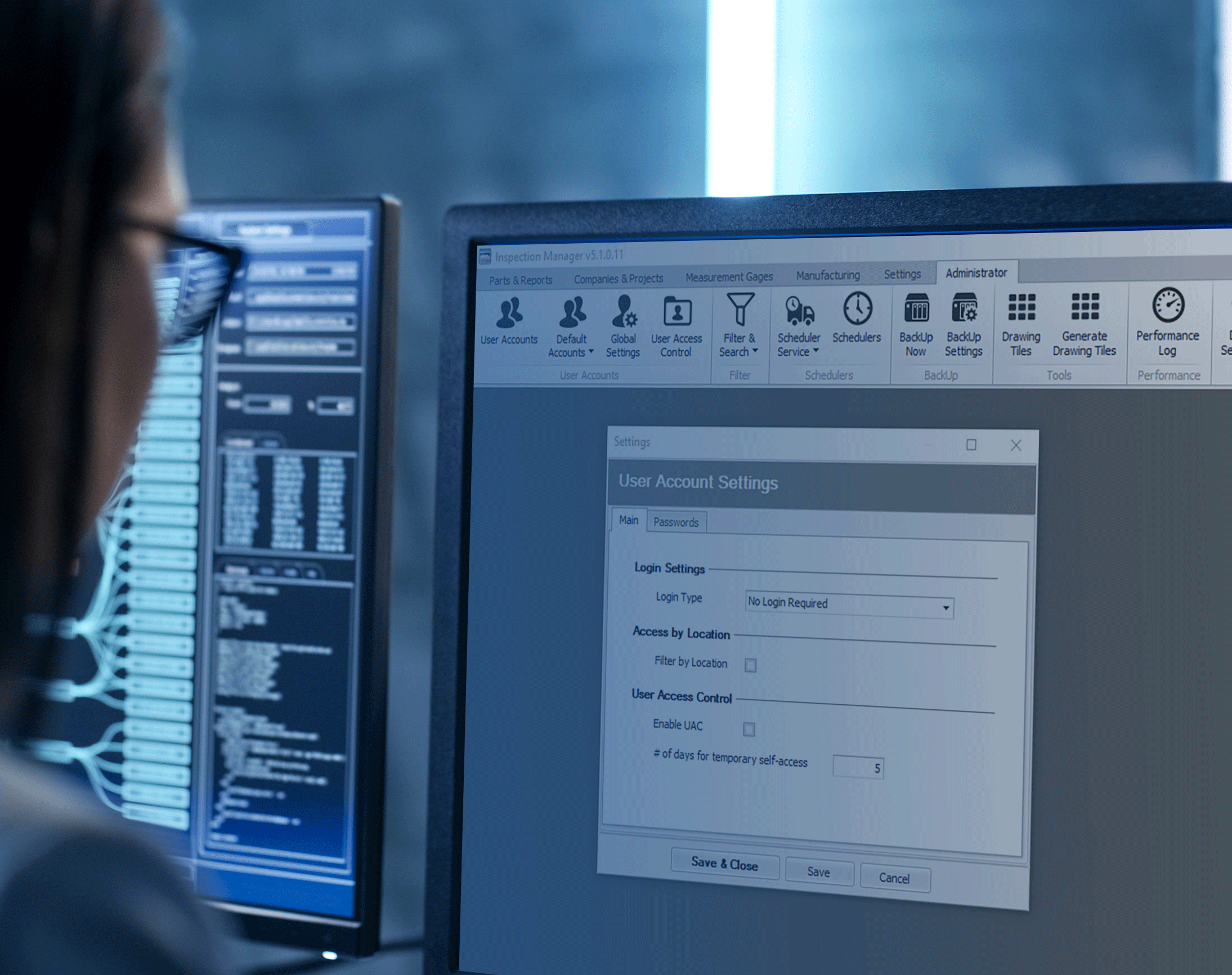 User Access Control for Part Security
New in Version 5.1
User Access Control provides great flexibility to determine who has access to sensitive part data. Define security groups by location, department, role, or individual user to restrict part record access based on need-to-know, ITAR, FDA or other compliance requirements. A central location in the quality management software allows you to add or remove users from security groups eliminating the need for an IT department to manage separate secure and unsecured servers.
Request a Demo
Manufacturing Key Sets
New in Version 5.1
Reduce your inspection work by grouping dimensions according to cutting tool. Critical dimensions and other dimensions in the group affected by the same cutting tool are color-coded on the print for easy identification. When the critical dimension passes inspection, the remaining members of the group are marked as passed.
Manufacturing Key Sets integrates with AQL Based Sample Planning and the centralized database system to maintain the integrity of the GD&T and inspection results data with full, automated traceability to the source.
Request a Demo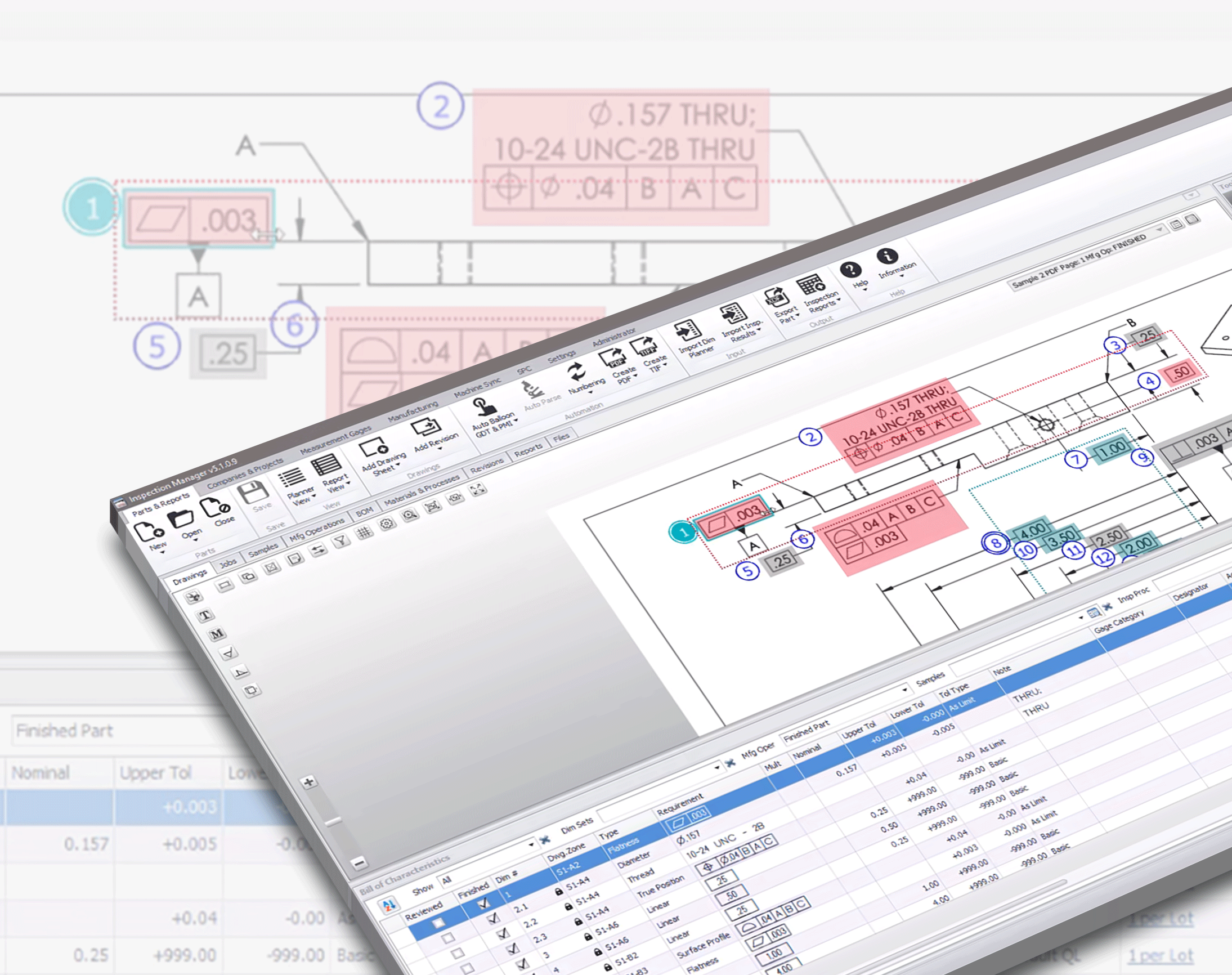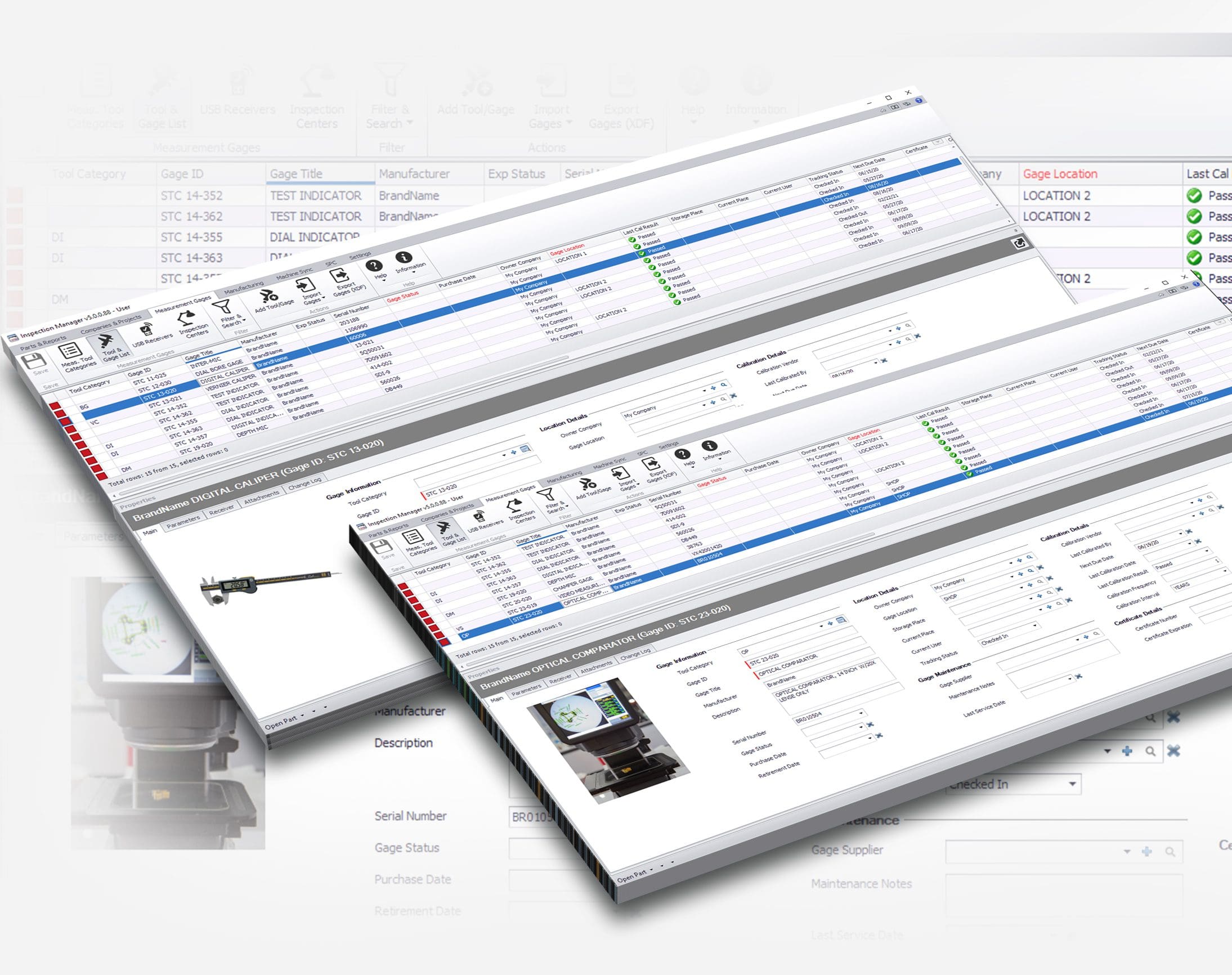 Integrated Tools & Gage Management
Updated in Version 5.1
Tool & Gage management is a critical element enabling trusted inspection results either within your facility or from an outside supplier. It allows automated inspection tool category assignments based on the feature recognition from the 2D drawings.
Management and tracking of inventories, storage locations, and most current users reduces wasteful time spent searching for tools and reports. All information is readily available in one centralized database in one manufacturing quality management software.
You can quickly identify a detailed usage history for each tool or gage and can filter usage by part, job, inspector, and date range to prevent inspection results from out of calibration tools.
Bluetooth, wireless, and wired inspection tools are supported seamlessly and do not require any external hardware or communication protocols.
Scheduled calibration time alerts are sent well in advance so that important calibration duties are always maintained.
Request a Demo
Automatically Import Inspection Results
Updated in Version 5.1
Import your inspection results from CMMs, VMMs, measuring arms, Bluetooth wireless devices, wired tools, manual gages, micrometers, and more – with just a one-button click.
Visually identify the inspection status for a part color-coded to show completed, to be inspected and failed results. Each sample shows the inspector and time stamps for the first and last results increasing visibility and traceability across the lot or job. Real-time notifications and alerts are triggered for failed dimensions and lot acceptance status and can be configured for each part or job.
High QA Inspection Manager automatically supports the tools you use to measure parts in real-time, in batch or manual mode, and creates non-conformance reports automatically. One-click automation creates FAI, PPAP and other reports in minutes rather than hours.
Request a Demo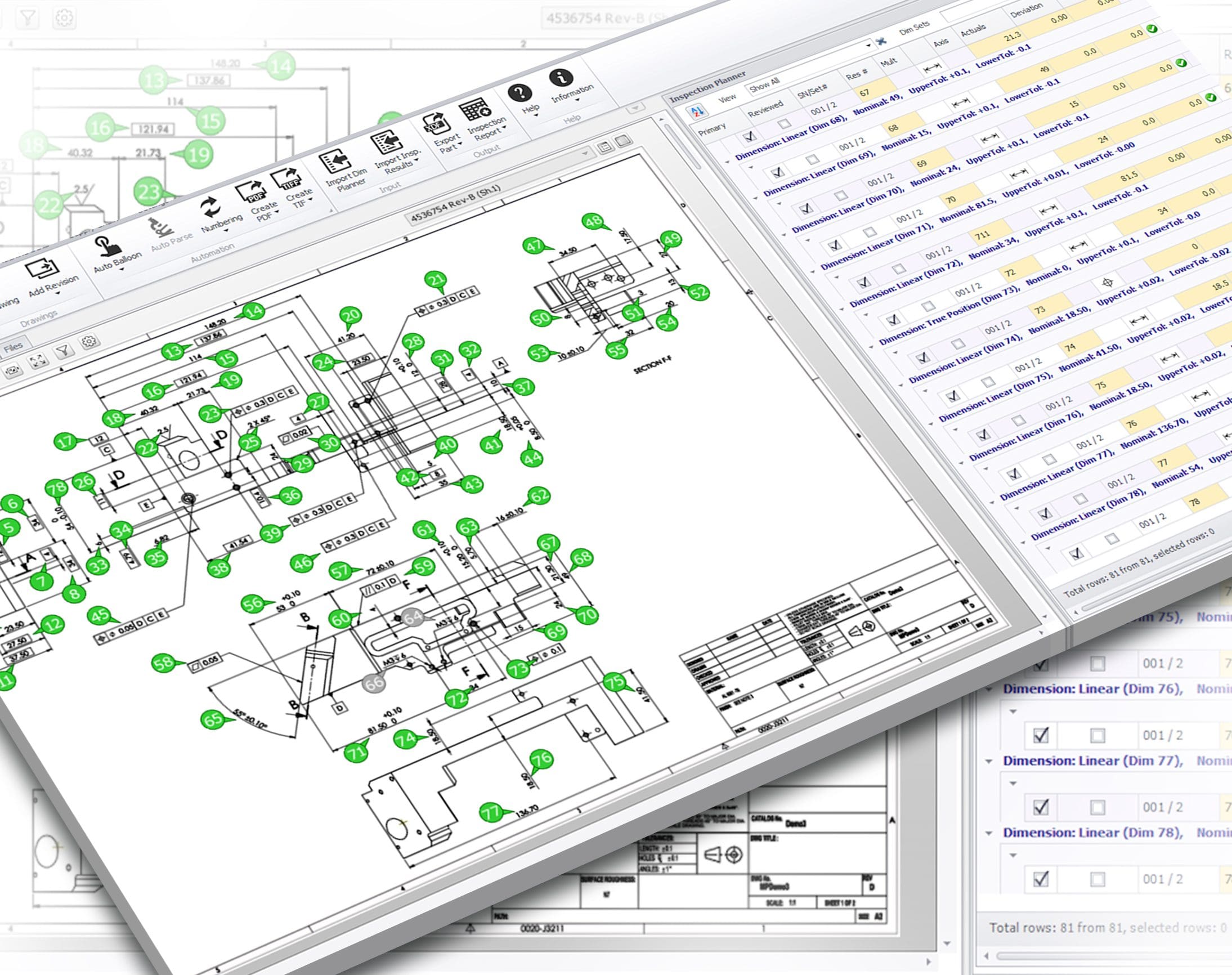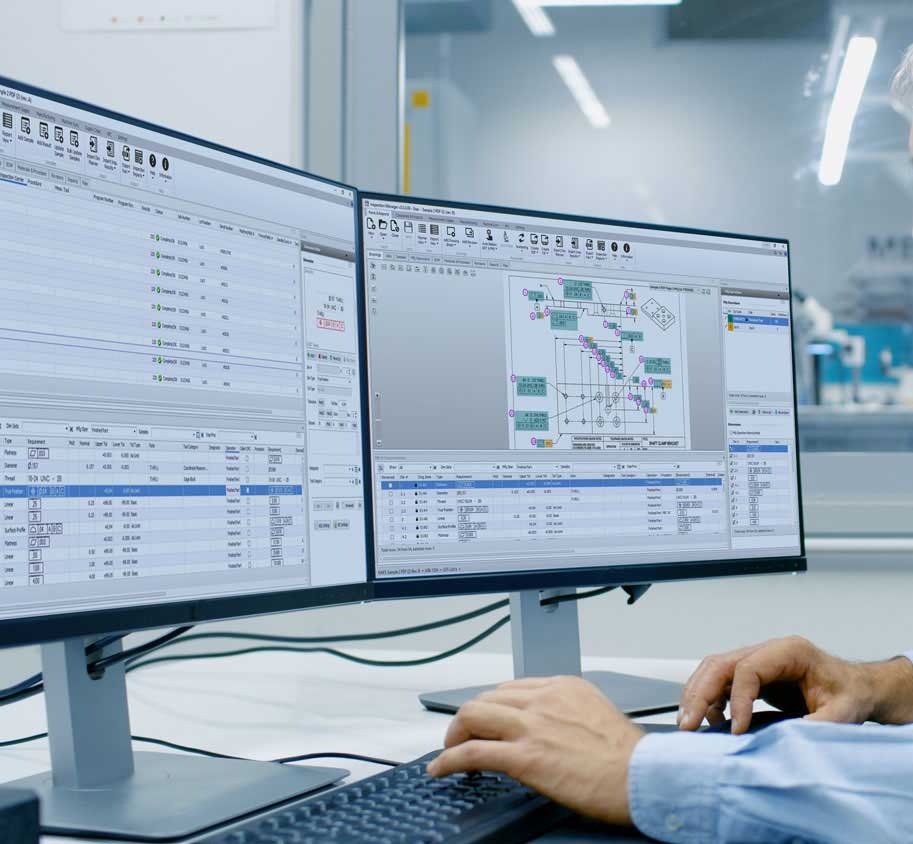 In-Process and Final Inspection Plans
High QA Inspection Manager provides the framework to establish a common set of standards and language for the manufacturing and quality departments to communicate effectively. The common language reduces downstream interpretations that often contribute to user data entry errors. This feature also eliminates redundant efforts, minimizes material waste and ensures that accurate and trusted data is available. Real-time alerts enable appropriate corrective action to prevent unnecessary waste.
Users create individual in-process and final inspection plans as needed. Each plan is a unique PDF file with the specific information needed at that step.
With Inspection Manager, printed process documentation and reports are things of the past. The paperless manufacturing quality management software enables users, based on permissions, to read and enter inspection results with the click of a button on a tablet or PC. All inspection results are automatically stored in a convenient, accessible, centralized database. Many organizations that still rely on paper documentation can enter process information into forms. They are stored automatically as Excel\CSV files automatically to the database and can be printed as needed.
Request a Demo
Automated SPC with Realtime Analysis and Alerts
An integrated statistical process control (SPC) package is an integral module of Inspection Manager. It enables statistical data collection for in-process and final part inspection routines. With minimal training, users can set up the statistical process in just a few clicks of the mouse.
Automatically collected data is entered directly to the central database where it can be organized into SPC results, charts, and reporting.
High QA Inspection Manager supports the AQL standard and presents dynamic table samplings accordingly.
Request a Demo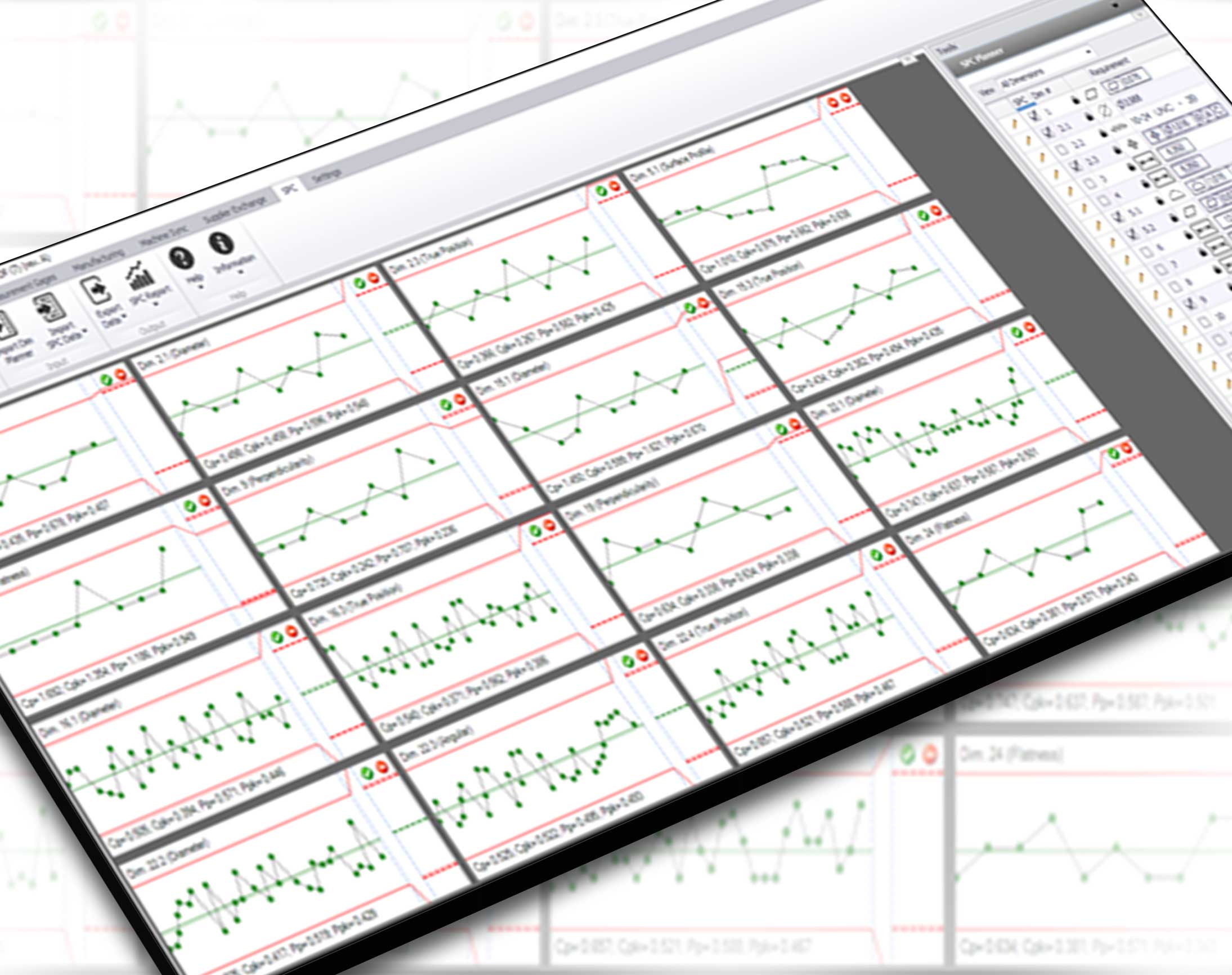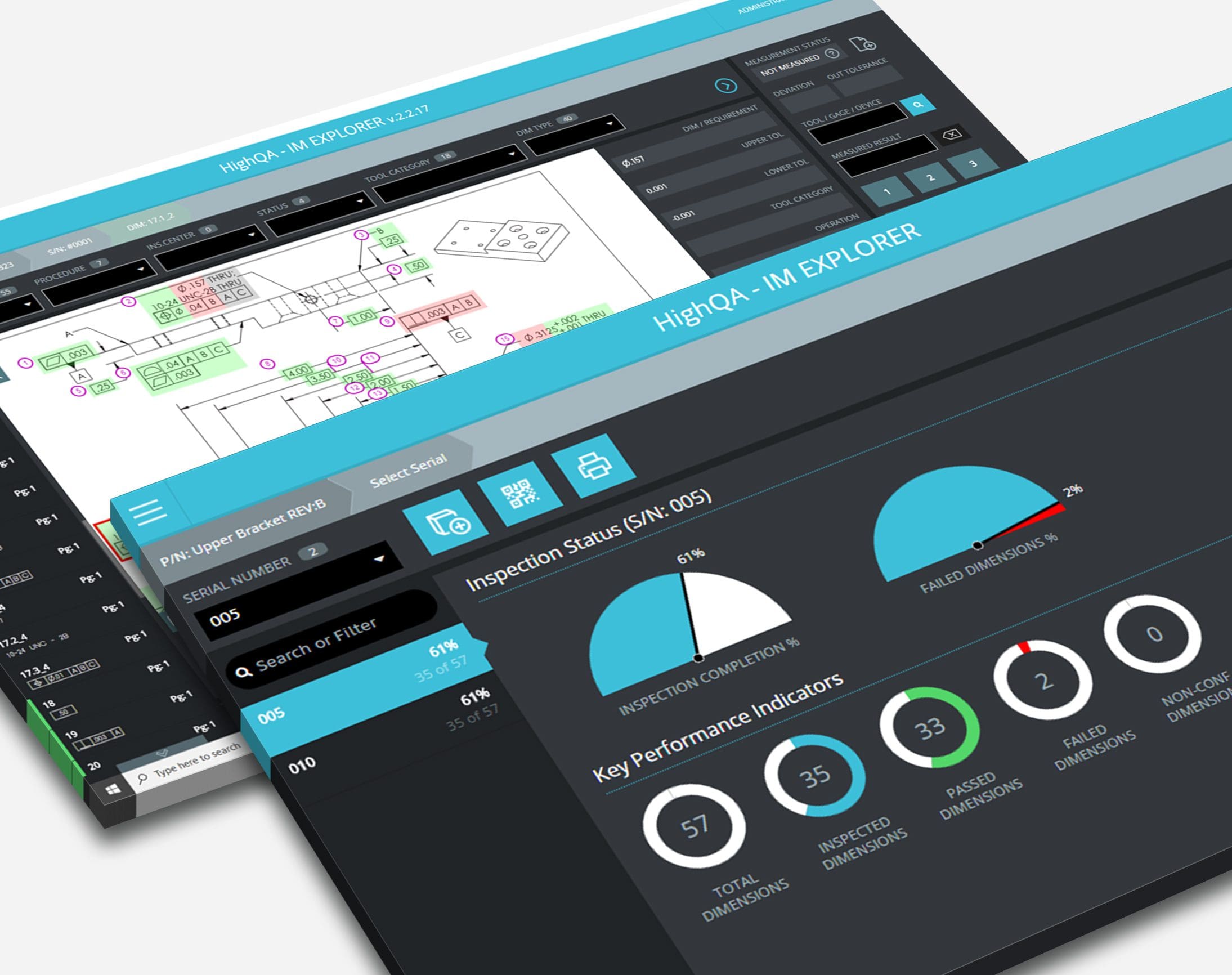 Shop Floor Data Collection and NCR
Collecting inspection data on the shop floor in real-time is key to understanding a process. Making that data available in an easy-to-read dashboard provides visual confirmation of process quality. High QA IM Explorer and High QA IM eXpress are mobile solutions to designed to automate the inspection process.
Tablet-based High QA IM Explorer and High QA IM eXpress provide access to the ballooned drawing, a wizard-like step-by-step guide with predefined measurement tasks, and visual instructions for completing the measurement process. Inspection plans from High QA Inspection Manager define the inspection requirements using a centralized database for accurate, consistent information and real-time non-conformance reports.
The intuitive, easy-to-use app, guides users through the inspection tasks step-by-step with minimal training.
High QA IM Explorer and High QA IM eXpress are part of High QA's Comprehensive Manufacturing Quality Management System designed to work seamlessly with High QA Inspection Manager. While High QA IM eXpress is used to collect inspection data from preassigned project and jobs, High QA IM Explorer has additional functionality to enable users' access to a wider range of information delivered from High QA Inspection Manager's central database.
Request a Demo
One-Click Report Generation
High QA Inspection Manager's comprehensive integrated report module automatically produces a variety of standard and custom reports using data from its centralized database. Report types include industry standard FAI, PPAP, SPC, NCR, and more, including company specific and custom-designed report templates. Inspection results collected from the shop floor, automatically or via manual entry, or from your supply chain partners, provide the source data used in these reports. The integrated Report Designer creates custom report forms and templates in minutes to meet internal or external reporting requirements. Custom reports can include formulas, unique page layouts, and the ability to import your customers' existing templates. Customers appreciate seeing their own branding on reports, especially with the first-rate results that High QA Inspection Manager provides.
Request a Demo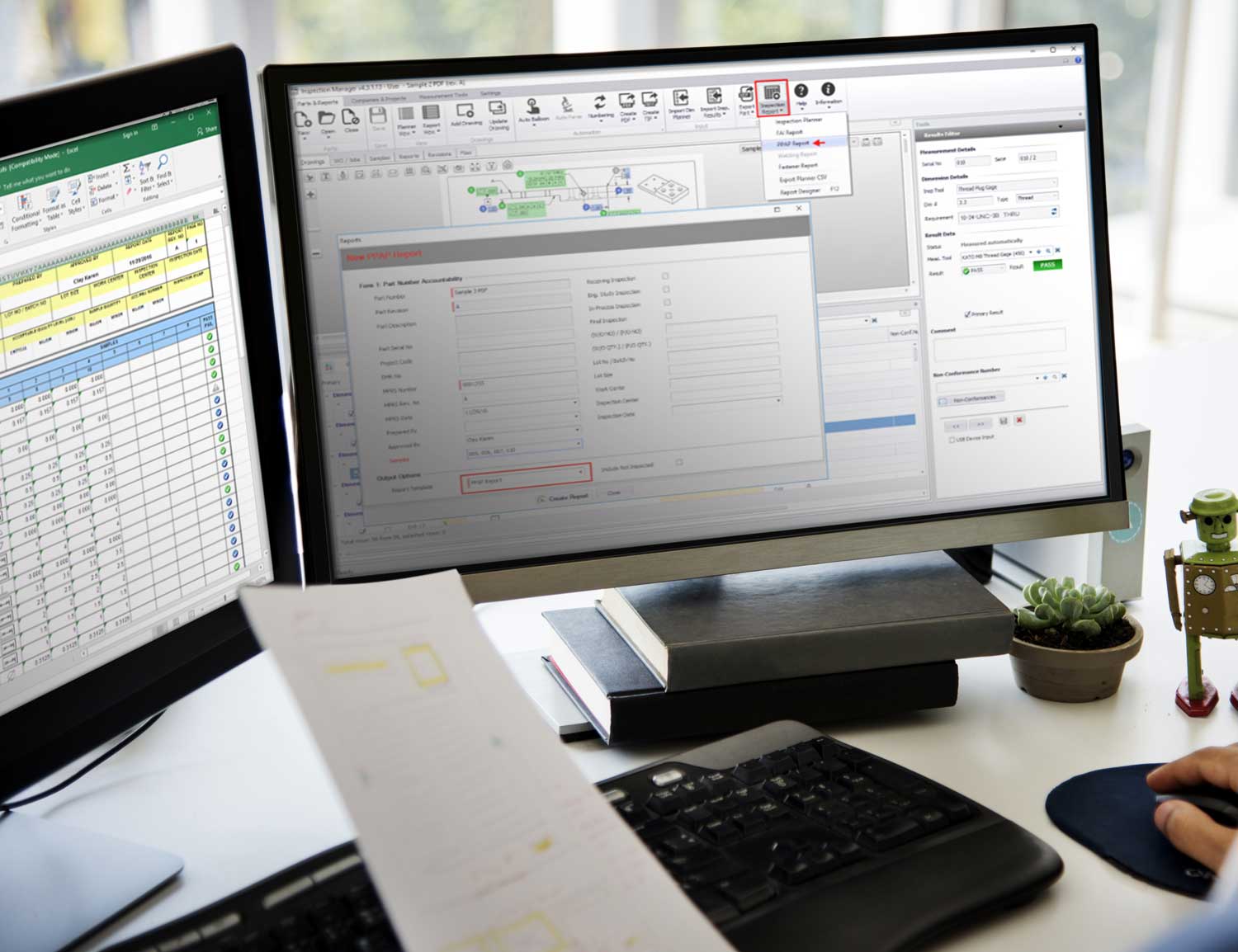 Let's Get Started
Learn how High QA can transform your quality inspection operations.