5 Steps to Simplify Your APQP/PPAP Process
High QA
March 23, 2022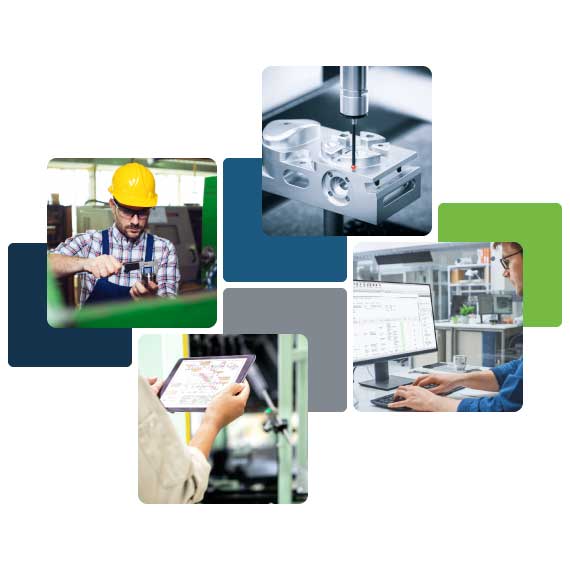 What is APQP and PPAP
APQP is a structured approach to product and process design that facilitates transparent communication and feedback throughout manufacturing both internally and throughout the supply chain. This set of standard procedures documents the ability to produce a qualified part with a reliable and repeatable process through a mutual understanding of the requirements and thorough risk assessment. With APQP and PPAP, you can detect errors early in the process, incorporate customer changes and feedback and deliver high quality products.
PPAP is an output of APQP. The PPAP report reviews 18 requirements such as design records, authorized engineering changes, engineering approval, dimensional results, control plan, and more. As the last step in the APQP process, PPAP demonstrates if a supplier can replicate the production of parts with consistency to a customer's standards.
Why APQP and PPAP
The primary objective of APQP is to improve the quality of manufactured parts, ensure consistent results and reduce costs. It provides a method for suppliers and customers to work together when developing a new product or making changes to existing products.
With better planning and management of the quality process, products can be correctly manufactured faster with fewer engineering changes and defects in the early stages of production. These reductions result in higher quality products and lower life cycle costs. It also establishes confidence in suppliers and their production process.
Simplify APQP and PPAP
When searching for methods to improve your APQP or PPAP process, you are inundated with a myriad of results. It is enough to overload anybody. With so many options, how can you effectively analyze and evaluate what is best for you?
It comes down to 5 concepts: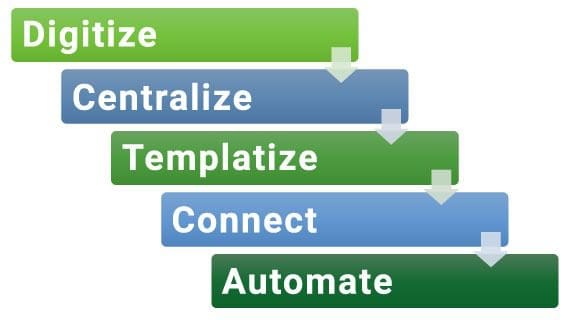 Let's look a little closer at these concepts and see how they are related.
Digitize
The number of companies that are still recording inspection results on paper is staggering. It seems that no matter how automated the rest of the manufacturing environment is, the quality process, for some reason gets left behind. Manufacturers understand that they need a CAD/CAM system, some sort of ERP or PLM, a bookkeeping software, and a CMM programming software, etc. But the digitization of quality has been overlooked, forgotten or they don't realize an option is available.
Unfortunately, there is a pervasive mentality when it comes to a quality process; "we just need a record of what was done to make sure we didn't miss anything." Facilities print out travelers, they print out drawings – even though they received a digitized version, they print out inspection plans, they print out work instructions and more.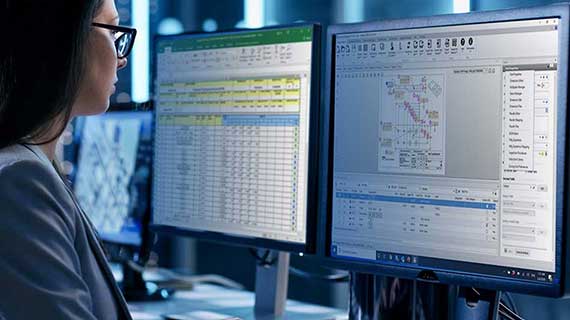 Operators, inspectors, managers, and everyone, hand writes their "actuals" to keep record of which operations were completed, how many parts were made, good parts, bad parts, inspection results. At the end, the manager reviews the paperwork, sees that everything was signed and then the packet is stored in a room of filing cabinets until an auditor asks for it. And then it is usually a challenge to know where to find the packet again.
Digitizing data makes it usable, accessible and organized. You have instant access to information when you need it. The progression of a job or order is easily visible where you can find bottlenecks and correct them in the process before it causes issues further downstream. And digitized data will help drive additional steps to provide better efficiency and productivity.
Centralize
While some companies are recording their precious data on paper, there are many who have taken the steps to "digitize" their data but have not yet "centralized" their data. This is a key step that gets overlooked frequently in the quality arena especially.
Recording inspection data in Excel or Word spreadsheets is a decent first step but it's not the destination. The data is still scattered. The data is accessible but is not useful. While it is no longer sitting in a physical filing cabinet, the digital spreadsheets are stored in a nicely organized folder hierarchy on the company network – an accomplishment in and of itself if it is neatly organized. However, the data is still decentralized into individual spreadsheets, drawings, and documents. What's needed is a database to make sense of it all.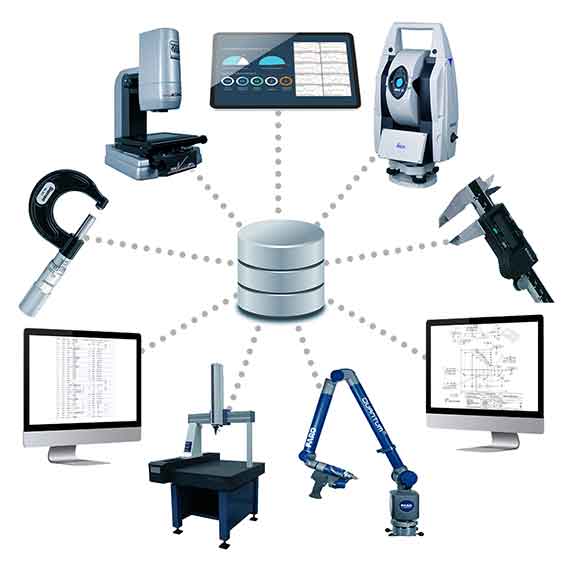 By storing drawings, quality plans and inspection results in a centralized database, all the data is stored in an intelligent and cohesive hierarchical manner that connects the data. With the data stored in one location, there is one source of truth. Reports, analysis and dashboards are consistent and have the most recent, real-time data. Everyone is using the same data for reporting, dashboarding, and analyzing data across all parts and all jobs. Centralized data provides better insights and dramatically increases the accessibility factor.
Templatize
Without standard templates, quality professionals are left to improvise their own forms, checklists and processes. Best practices are not leveraged across the organization. Often the processes are stored in the minds of employees rather than written and followed and information may be missed when it is passed from one person to another.
With templatized reports and workflows, processes can be repeated. New jobs and orders don't have to be started from scratch; the process is already established. It also provides a method for accountability. You know what someone did, when they did it, and what were the results.
When inspection data is templatized, digitized and centralized, standards can be created, used and enforced. This creates consistent reports, checklists, workflows and customer submission packages. Customers will gain confidence from receiving consistent reports with the manufactured parts.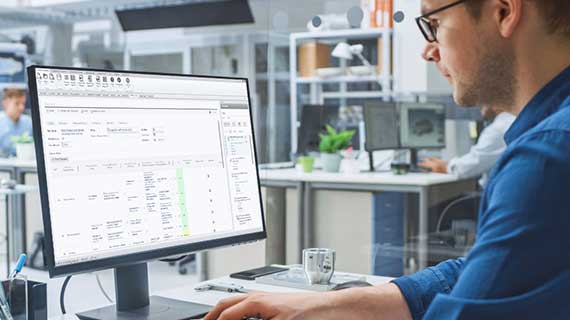 Connect
Managing the manufacturing quality process is becoming increasingly more complex. With more complicated designs and tighter tolerances, it is more important to align and unify suppliers and customers.
Emails with attached files, drop boxes or shared folders just aren't efficient ways to collaborate. Items get missed, people end up with different versions of files, changes made on one file are missed on other files. That all leads to frustrated buyers and suppliers.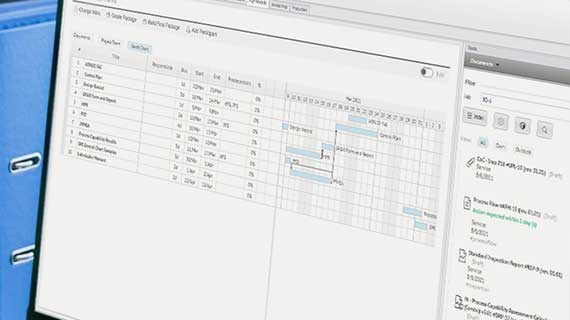 A system with digitized data, stored in one location with standard templates ensures that cross-functional teams can seamlessly and securely collaborate and communicate on critical documents. Documenting accountability with evidence that part requirements are understood helps eliminate unnecessary arguments and frustrations.
A collaboration tool is vitally important so that individual interpretation of quality requirements is eliminated, all parties are working on the same forms, workflows and reports, and traceability of engineering changes, approvals and acceptance are visible. Buyers and suppliers are fully aware of the process and what is required by each party.
Automate
Industry 4.0 is driving rapid change in manufacturing. Many manufacturers are pursuing some type of smart factory initiatives. Manufacturers need technology and software to stay competitive. This is especially true for the quality area of manufacturing. Automation helps move jobs through the quality process faster, tracks schedules, and continuously improves part production.
As data is digitized and stored in a single location, it becomes easy to automatically populate reports. Planned and digitized data can be automatically inserted into the proper reports. Manual cut and paste, typing and transposing errors are eliminated.
Notifications and alerts can be automated and triggered when a process is late or out of tolerance. Management will know when there is an issue that needs to be addressed and take corrective actions sooner.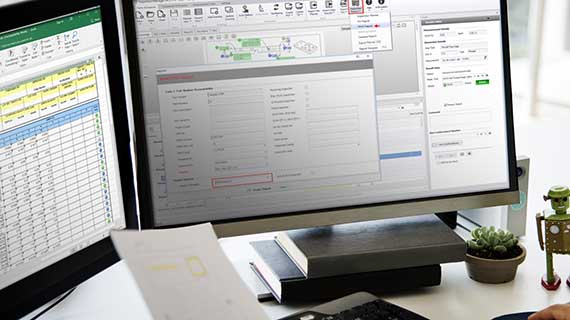 Many processes now have technology that allows for automation like ballooning a 2D PDF drawing, ballooning a 3D model, initiating a project, or synchronizing with other business systems. Automation of these processes saves time and allows highly skilled people to work on more difficult aspects.
Maximize Your APQP and PPAP Process
APQP is a huge endeavor that is a lot of work with the number of people involved, the complexity of the project, and the amount of change requests. With numerous documents, processes, and data generated during the APQP process, the traditional paper-based workflow can lead to increased laborious and repetitive manual work, reliance on human interpretation, and dealing with multiple data formats and files.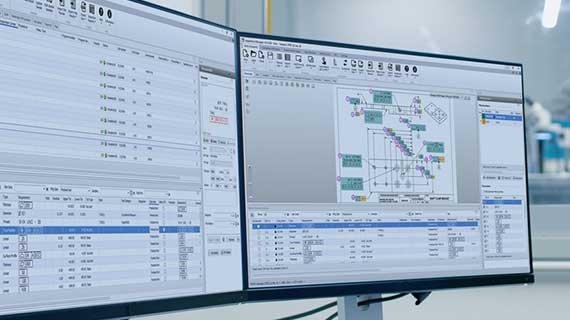 You can create a more efficient and productive APQP/PPAP process by ensuring you follow 5 concepts:

At High QA, we can help you meet your APQP/PPAP standards. Our non-Microsoft Excel-based database-driven manufacturing quality management software delivers a powerful, robust manufacturing quality project management solution. You can efficiently create, manage, support, and monitor APQP/PPAP requirements all in a single software.
Whether you are in the automobile, healthcare, aviation, and other manufacturing sectors, our complete APQP/PPAP solution conforms to manufacturing standards. Contact us today and let's make your quality management process fully integrated and seamless with High QA 360 software.
About High QA
We provide our customers with industry-grade software solutions to ensure product creation in less time with fewer mistakes. We serve a broad clientele in the automotive, aerospace, medical devices, construction, and oil and gas industries.

Our manufacturing quality management solution will help you save 75% of your time. Take your manufacturing from good-to-great with an all-in-one quality software solution.
Explore our website and discover what High QA can do for you and your suppliers. We are just a click away to answer questions or provide a demo of our software.